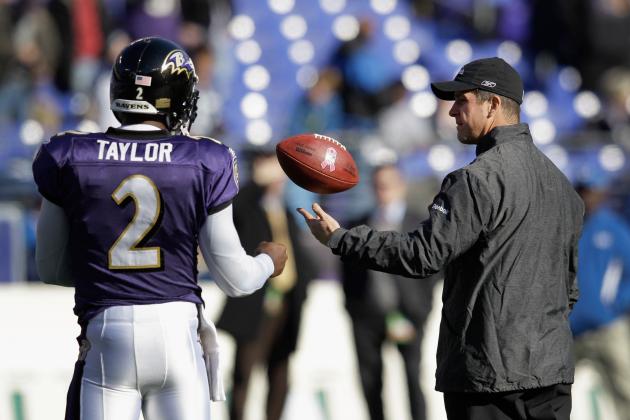 Ravens training camp is set to begin in about a week. 90 men will suit up on July 24th with 37 of them not making it to final cuts a little more than a month later. Some of these men will be longshots to make the team. Others will be tough cuts for Coach Harbaugh to make. Here are some of the players that are on the bubble of making or missing the cut, starting with the offense. We'll take a look at the defense in the next series. 
Discuss your thoughts on this topic on our message board. Click here until July 31st to see how you can help BSL grow while supporting four great local charities. 
Ravens Offense 
QB – Tyrod Taylor: It has been quite some time since the Ravens have carried three QBs and I find it unlikely that barring injury, they would cut sixth round pick, Keith Wenning out of Ball State. If they do keep three QBs, someone else is going to have to go. Someone who could play a key role on special teams or provide depth at a position that might actually get him on the field. In fact, the Ravens save about 200K in cap space by carrying Wenning over Taylor. In season if the need for adding another QB arises, some notable free agents include David Garrard, Rex Grossman, and the just released Kyle Orton. 
Locks: Joe Flacco Expected: Keith Wenning  
RB – Justin Forsett: Forsett signed with the Ravens this offseason for one year with no signing bonus meaning he would be an easy cut cap wise if he doesn't meet standards. However, Forsett is one of those role players who will play special teams, and excels as a short yardage back, familiar with Gary Kubiak as well. The Ravens usually carry three running backs. If Ray Rice faces a suspension that we all expect, Forsett and his competition in the form of rookie Lorenzo Taliaferro would likely be RB2 and RB3 behind Bernard Pierce, but one of the two might be the odd man out when Rice returns, or, somehow avoids missing games. 
Locks: Ray Rice, Bernard Pierce Expected: Lorenzo Taliaferro   
WR – Deonte Thompson/LaQuan Williams: I would think like Taylor, we have seen enough of Deonte Thompson not being able to produce consistently, or even stay healthy for that matter. The Ravens went out and brought back LaQuan Williams, former Maryland Terp and someone Coach Harbaugh would like to see on special teams. The Ravens are likely to keep six WRs. With the undrafted guys, there is about four or five people fighting for one spot. But these two are squarely on the bubble. 
Locks: Torrey Smith, Steve Smith, Jacoby Jones, Marlon Brown   
G – Jah Reid: Like Thompson, Reid hasn't been able to stay healthy on a consistent basis. We all expected a bit more from a third round pick by this point in his career. The Ravens drafted a guard in John Urschel out of Penn State, and signed free agent Will Rackley who also was a third rounder in 2011, picked just nine spots before the Ravens took Reid. Sounds like the Ravens are ready to move on without him, but it's possible that he could be a fit in Gary Kubiak's zone blocking system. We'll see when preseason rolls around. 
Locks: Marshal Yanda, Kelechi Osemele Expected: Will Rackley, John Urschel   
C – A.Q. Shipley: I'm afraid there are just too many chickens in the hen house when it comes to the center and guard positions. They Ravens usually keep three guards and two centers. If you consider that they would keep four guards (Yanda, Osemele, Rackley, Urschel) there definitely isn't room for a fifth guard, where he played a bit last year, and no room for third center behind Jeremey Zuttah and Gino Gradkowski. Gradkowski disappointed last year, but would cost some $242K in dead money whereas Shipley would cost none. He also did beat out Shipley for the job a year ago. 
Locks: Jeremy Zuttah Expected: Gino Gradkowski     FB Lock: Kyle Juszczyk     TE Locks: Dennis Pitta, Crockett Gillmore TE Expected: Owen Daniels     T Locks: Eugene Monroe, Rick Wagner T Expected: Ryan Jensen