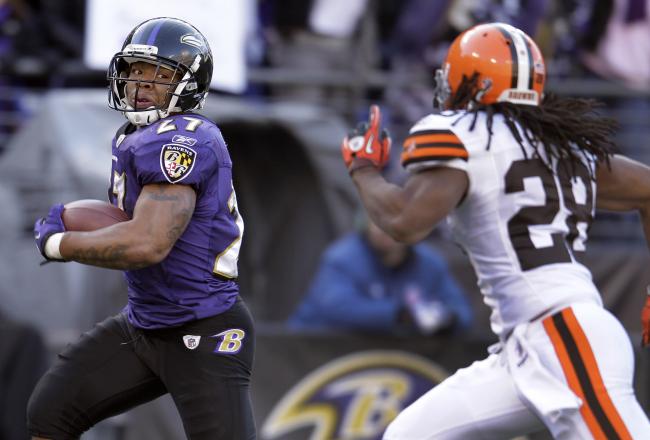 I would love to see a lot of this on Sunday. Ray Rice, football in hands as he runs away from the Browns defense. Wouldn't you?
Keep your friends close and your enemies closer. This week, the enemy is Cleveland Browns. We've heard all week the Ravens perspectives. What are the folks in Cleveland saying going into this match up? Let's get right into it.
First up from dawgsbynature.com and their week 9 scouting report. I'll just pull a few highlights out of it, with my reaction in bold.
"The Ravens' defense, statistically, has been terrible this year. They are 30th against the run and 24th against the pass. Cleveland's defense is allowing fewer yards per game than the Ravens. Because of how dominant Baltimore has been over the years, it's a radical change for Baltimore's offensive gameplan too — there is more pressure on Joe Flacco to score early and often." Yeah, you know how you take pressure off of your QB? Run the football early and often. I'm looking at you Cam.
"Suggs has had more time to get in shape over the bye week and could see a near-full workload against Cleveland. I'm not sure how much it will help, though — despite his individual effort, the Ravens were still blown out by the Texans 43-13 in his first game back." One man doesn't make a defense complete. You cannot replace a Ray Lewis. The absence of him and Webb, combined with Ngata bothered by knee, shoulder, and a constant double team doesn't help either. But don't discount Suggs impact. There are many more reasons why the Ravens loss was so lopsided last week.
A fans comment on our weakness at defending the run. "I would like to hope that when there's a weakness this glaring in an opposing defense, our coaches have the smarts to use it to their advantage." You might find this same comment on a Ravens site as well.
Next at brownsgab.com, they give their prediction for Sunday. "The Ravens have owned the series, and even with the Browns playing better, it won't be enough to get a win Sunday. Ravens 17-Browns 13." That's a decent prediction. If the Ravens win, I definitely don't see them winning by double digits. The past history in Cleveland and the Ravens road performances doesn't favor them for sure. At the same time, it's the Browns.
Finally, straight from the blog section of clevelandbrowns.com, five keys to a Browns win against the Ravens. "1. Run, run, run, run and run some more. 2. Be effective but efficient through the air. 3. Prevent Ray Rice from dominating. 4. Be aggressive rushing the quarterback. 5. Maintain tight pass coverage." Gee. Vic Carucci must be a genius. If you just replace Ray Rice with whichever team you are playing star player, you'll never lose a game. I mean this is the blueprint for winning football. These are the keys to every game. Way to go out on a limb. Over at the Cleveland Cavaliers blog, the five keys to winning must be to not turn the ball over, shoot the ball well, out rebound the other team, be physical, and make your free throws. Just go all John Madden on us and say that the key will be to score more points than the other team.
I would have expected to see a little more confidence surrounding the Browns media and fans after winning two of three, both at home where they'll be Sunday. A lot of folks are chalking up the Chargers win a week ago as "ugly," even though Trent Richardson is running strong, Brandon Weeden isn't playing too badly, and the receiving core has cured its case of the drops for now. Will Cleveland be able to focus on the game rather than look ahead to their bye week coming up?
For the Ravens, it's not about the loss two weeks ago. It's about how you bounce back from that. Can they put it behind them and move on? Will they learn from their mistakes? Will Cam Cameron take his gameplan from that game and toss it in the fireplace? The panic meter is pegged in Baltimore. We need a definitive win to back some people off the ledge. A week of rest, a week to prepare, playing a team Joe Flacco and the Ravens have won nine straight against, 11-5 all time and 4-0 after a bye week under Coach Harbaugh.
The line is Ravens by 4 which is the closest spread in this matchup since 2003. I think the Browns cover, but Baltimore wins. Another ugly game which will leave us shaking our heads. Call it Ravens 26 – Browns 24.