articlefeature--baltimore-ravens
Fans guide to following a poor Ravens team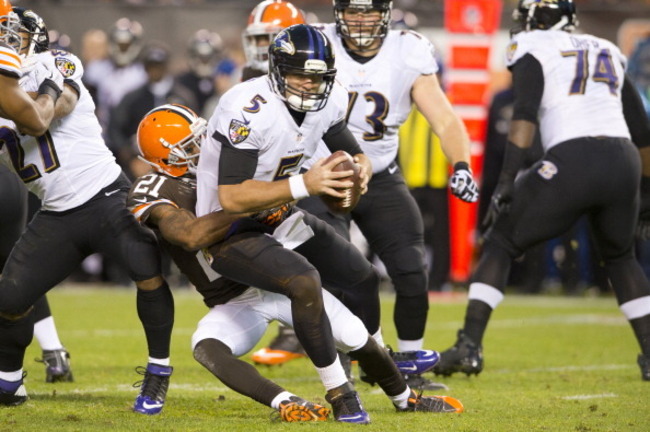 Rule number one: Stay loyal. Don't jump ship. Don't sell your tickets off to trolling Steelers fans. Don't be that guy.
Character is all about how you respond in the face of adversity. The Ravens are facing that adversity right now. In football, that response won't be known this week, or next week. They might have to get beat down this whole year, just to come back stronger than ever next season.
Discuss this topic on our message board.
Every team goes through a season of regression at some point. For some teams, playing at a poor to mediocre level is a way of life. For others it can be a whole new experience. That is the category the Ravens fall into. Joe Flacco, Ray Rice, Coach John Harbaugh, these guys don't know what it's like to be looking up from the bottom of the standings. They don't know what it's like to have January off to dial in those new golf clubs they got for Christmas, while other teams are looking to make history. The Ravens are the only team in the NFL to have not missed the playoffs in the last five seasons. Every other team has recently suffered a down year. The Ravens are dangerously close to having their first in a long time.
For Baltimore fans, we are entering territory we haven't visited since 2007. As fans, we have had good reason to live and die by every game in the last five and half years. Edge of our seats in anticipation, hanging on every pass, every run. The games mattered more and more as the seasons went on. Stress levels, through the roof.
What do we do now when wins and losses really only mean the difference in the 11th draft pick or 16th draft pick? Well…take it easy. Kick back and relax. Your heart and blood pressure will thank you.
Let's not kid ourselves. The Ravens are not good right now. Expecting them not to lose a single game the rest of the year is just delusional given the effort this year. Obviously we want the home team to win every time they take the field, but that's just not going to be the case. However,  victories can come in more ways than just on the scoreboards. There are little victories happening all the time. I'm not talking moral victories like, "thank god they held the opposition to just a field goal there."  I'm talking little glimpses of future success, milestones, and feel good stories. Just some things to look forward to that don't include the playoffs that can still make you feel good, and stand up and cheer.
As the second half of the season gets underway, and the excitement level begins to drop off, here are a few things to look forward to, starting with last night's star of the game.
Marlon Brown's growth – The undrafted Bulldog is putting together a nice little rookie season. He is currently on pace to catch over 50 balls, and his two TDs yesterday give him five at the half way point. He could reach ten TDs by season's end, which would be the second highest in franchise history. Michael Jackson had 14 in 1996. Derrick Mason, Todd Heap, Anquan Boldin, none of them had ever reached double digit TDs in a season in a Ravens uniform. Brown has shown solid hands, reliability in pressure situations in the red zone. Has the height to be a dominant receiver. An off-season of packing some muscle onto that 22 year old frame, he could be a force. Enjoy watching him grow right before our eyes.
Keep an eye on the other rookies – Matt Elam is seeing a lot of playing time. He's a heavy hitter out there, and I'll be looking forward to his next bone crushing hit. Arthur Brown and Kyle Juszczyk are being used on special teams. Brandon Williams should start getting some more reps on the defensive line. A man with the rare mix of massive size and agility should be fun to watch.
Jameel McClain's second chance – McClain is one of the good guys in the league. A humanitarian off the field and the unsung hero of a couple Ravens teams of the past when he would fill in, and fill in well, for an injured Ray Lewis. He has missed significant time dealing with a spinal cord bruise. Obviously any injury involving the neck, back, spinal cord, can't be taken lightly. McClain's character makes it very easy to root for him. He provides other people second chances with all of his charity endeavors, and I wish him all the best as he makes the most of his second chance at playing the game he loves.
Dennis Pitta's return – It would be amazing if the Ravens breakout star in 2012 could make a return less than four or five months after breaking his hip in camp. It defies logic when you look a specimen like Bo Jackson, whose hip injury ended his career. It'll be great to see him get out there again this year, and prove that he's still got it. It would answer some questions about his ability heading into free agency for him, and what he could do next year.
Terrell Suggs' sack total – Suggs has gotten to opposing QBs at a career best rate. He's on pace for 18 sacks in 2013, which would eclipse the 14 he recorded when he won defensive player of the year in 2011. A possible DPOY candidate this year, also is just 6.5 sacks shy of the century mark for his career. He would become the 31st player to reach 100 sacks. Only six other active players have more sacks than Suggs.
Joe Flacco chases 4,000 yards – Flacco is on pace to notch a career high 4,334 passing yards in 2013. That would be a franchise record that has stood since year one in Ravens history when Vinny Testaverde threw for 4,177 yards in 1996. I'm not going to get into the debate in this article about if passing yard totals matter when you're not winning games. Simply, it would be nice to see our franchise quarterback owning some franchise passing records.
There are still marquee teams coming to town – Regardless of record, you know the Steelers game will be a battle. The Ravens host the hated black and yellow on Thanksgiving night. There's something special about playing on turkey day, a holiday synonymous with football. Tailgating on Thanksgiving should be a feast second to none. Week 16 brings the New England Patriots to town. Baltimore has won their last two games against the Pats, both in 2012. If the playoffs aren't in the cards for the Ravens, they will be for the Patriots, and you know we would love nothing more than to play the role of spoiler for another Boston team. (See: Orioles/Robert Andino, 2011) While the Vikings aren't marquee, their star RB Adrian Peterson is an All-Pro. If you go to the games, he's worth the price of admission.  My dad and granddad told me stories of getting to see guys like Bart Starr, Y.A. Tittle, Jim Brown, Gale Sayers, in addition to all the Baltimore Colts stars in person. Adrian Peterson could be mentioned along with those guys when all is said and done.
I guess the only thing I'm not looking forward to might be the Ravens rushing stats at seasons end. My grade point average might be higher than their yards per carry. (I was a "C" student)