articlefeature--soccer
Gold Cup – So where does the USMNT Stand?
The CONCACAF Gold Cup tournament is right around the corner with the first match set for Friday July 7th at the Red Bull Arena in the NY metro area. The US MNT play their first match the next day against Panama, which should be their toughest match in the group stage. Before getting into the subject at hand lets clear up a bit of misinformation about the Gold Cup.
There is an incorrect presumption that the Gold Cup is the United States' tournament. Much of that is fueled by the fact that the US has hosted or co-hosted all 13 previous tournaments. But the fact is that this tournament is managed by CONCACF as their regional championship. It ends up being held in the US since frankly no other CONCACAF member nation has the necessary infrastructure to host it. This also explains why some of the game times and television rights have been odd. CONCACAF and their television partners make those determinations. Rarely impacts US matches since the television rights to those have always gone to US broadcasters anyway. But this has been an issue with qualifying matches held outside the US.
Of the thirteen previous Gold Cups, Mexico has won it seven times, the US five times, and Canada once. So heading into the 2017 tournament just how is the USMNT shaking out?
(You can discuss this on the BSL Board here.)
USMNT Gold Cup 2017
National team head coach, Bruce Arena, announced his 23 man roster for the group stage this past Sunday. As is typical with a Gold Cup roster, there have been lots of blogs and sports writers discussing where Arena got the roster right and where he got it wrong. And of course, soccer fans love to chime in on internet forums to toss around their thoughts. Much of the discussion centers around one of two camps. The go for it camp believes that since this is the last major tournament prior to the World Cup next summer in Russia that the team should be as strong as possible. The other camp believes that this tournament is a prime time to look at upcoming young players that may be able to provide support to the MNT both in the remaining games in the Hexagonal qualifiers and for the World Cup.  As in most discussions, the best course of action probably lies somewhere in the middle. Here is the roster as announced Sunday. The roster shows the current club for each player as well as the number of caps and goals they have scored for the MNT.
GOALKEEPERS (3): Brad Guzan (Atlanta United FC; 54/0), Bill Hamid (D.C.United; 2/0), Sean Johnson (New York City FC; 5/0)
DEFENDERS (8): Matt Besler (Sporting Kansas City; 39/1), Omar Gonzalez (Pachuca/MEX; 39/1), Matt Hedges (FC Dallas; 2/0), Eric Lichaj (Nottingham Forest/ENG; 11/0), Matt Miazga (Chelsea/ENG; 2/0), Justin Morrow (Toronto FC/CAN; 1/0), Jorge Villafaña (Santos Laguna, MEX; 6/0), Graham Zusi (Sporting Kansas City; 47/5)
MIDFIELDERS (9): Kellyn Acosta (FC Dallas; 8/0), Paul Arriola (Club Tijuana/MEX; 5/2), Alejandro Bedoya (Philadelphia Union; 60/2), Joe Corona (Club Tijuana/MEX; 17/2), Dax McCarty (Chicago Fire; 6/0), Cristian Roldan (Seattle Sounders FC; 0/0), Kelyn Rowe (New England Revolution; 0/0), Kenny Saief (Gent/BEL; 0/0), Gyasi Zardes (LA Galaxy; 31/6)
FORWARDS (3): Juan Agudelo (New England Revolution; 23/3), Dom Dwyer (Sporting Kansas City; 0/0), Jordan Morris (Seattle Sounders FC; 15/2)
So are there surprises? Yes, just like every NT roster any coach has ever announced. There are always players who somebody thinks should have been called in and some who got called in that are questioned. So who are the surprises this time around?
Inclusions:
Goalkeepers - It was somewhat surprising that both Sean Johnson and Bill Hamid got called in. However much of that is probably due to the fact that FIFA has not yet approved the one time transfer of goalkeeper Jesse Gonzalez from Mexico to the US. 
Defenders - Graham Zusi somehow continues to be called in. He does provide some solid experience and can be useful for serving in balls on set pieces. But his better days are behind him and he no longer has the legs to play at a high level for very many minutes.
Midfielders - Joe Corona and Gyasi Zardes are both a bit of a head scratcher. Corona has never done particularly well on the MNT and Zardes has not looked to be in good form so far this MLS season. Now in fairness to him, the LA Galaxy are not playing well and much of his troubles are his lack of support.
Forwards - Juan Agudelo has played quite a few matches for the MNT and has never really showed much especially against better competition.
Exclusions -
Goalkeepers - None really other that the aforementioned Gonzalez.
Midfielders - There are several MLS based midfielders that could have been called in to provide a bit of experience and to gain more themselves. Darlington Ngabe is one I would have liked to have seen on the 23 man but perhaps Arena has seen enough of him the last two camps to know what he brings to the table.
Forward - Christian Ramirez should have been called in. He has nine goals in the MLS this season.
So is this roster strong enough to win its group? Yes it is. 
Is this roster strong enough to win the tournament? Probably not. But here is the oft forgotten twist to the Gold Cup rules. Teams are allowed to make up to six roster changes between the group stage and the start of the knockout stage so look for Arena to make a handful of changes after the group stage. Depending on form and performance in the group stage, expect to see Michael Bradley, Clint Dempsey, Jozy Altidore, and Darlington Nagbe called in. And perhaps Tim Howard.
So while there are always differences in opinion about the roster makeup, by and large I think Arena got a solid blend of experience and some younger players that need a serious trial with the MNT moving forward. Sure the roster is almost all MLS and Mexican League players. As it should be. European based players are finally getting some long needed rest and will soon be in training camps for their fall season. It is important that they are rested and ready for those teams. It helps the MNT in the long run because the better the European based players perform, the more minutes they get in high quality matches. That just makes them better heading into next summer's WC.
Prediction? Win the whole dang thing!
Which leads us into a deeper topic. How does the MNT stack up against the rest of the world?
USMNT – How good are we?
First off don't expect to get a real handle on that from the Gold Cup. There are only two other really strong teams in the Federation in Mexico and Costa Rica. In general, the US should beat Costa Rica when playing at home (and they historically have done just that). And Mexico is currently in the Confederations Cup, playing a semifinal against Germany tomorrow. They will be sending less than a full squad to the Gold Cup.
So how are we ranked? Seems like American fans are enamored with rankings and we love to debate them, me included (ever get on a college football forum?). The problem with rankings in soccer is just like any sport. It is subjective and filled with bias. There are a ton of teams (211 teams are ranked by FIFA) and they don't all play each other and in fact in most cases there aren't even common opponents to use for judgement. But its what we have so lets take a look.
The US currently ranks as high as 16 in the World Football Rankings, 23rd in the official FIFA rankings, 27th in ELO, to a low of 32nd in DRatings. So pick your poison. Historically I tend to follow the ELO rankings. They seem to be the most credible and least biased system. As an example, in 2006 the US moved up to 4th in the FIFA rankings, their highest ever ranking. Yet that very same US squad was NOT seeded for the WC draw. Eight teams were seeded but in the "magic" formula used by FIFA for seeding somehow the US fell to 9th. Now to be fair, I don't feel that we were one of the top eight teams. However, when a entity ranks a team in the top eight then somehow doesn't seed them…well…..its FIFA we are talking about.
Warning – Opinion coming. FIFA is the second most corrupt sports authority in the world falling behind only the NCAA.
All in all a current ranking in the mid twenties seems pretty reasonable. What that means from a competitive standpoint is that on any given day they have the ability to beat anybody. Conversely, they also can't just waltz out on the field and beat lesser teams either.  Are they in the same level of quality as the top tier teams? No they are not. They aren't as talented nor do they have the depth to the roster. But they played a pretty touch match last summer in the COPA America Centario against Columbia, the #5 team in the world. Soccer is a tough game and sometimes the ball takes funny bounces. At the end of the day you don't play the game on paper!  Which leads me to the last topic I want to address. 
Who are the USMNT Best Eleven?
In a conversation the other day, I was asked what on the surface sounded like a straight forward question. And that was "just who are the best eleven players for the US MNT?"  I was tempted to go into a long winded answer on why that was not a straight forward question but decided to just give them a simple short version. So what was that answer? I said "it depends." But I followed that up with a promise to give them a full response at a later time. So to keep my promise here is that full answer.
The reason "depends" was the answer is for a whole plethora of reasons. So here are those reasons and how the affect the ultimate answer on who the best eleven players are.
Position - if you didn't have to play a game with the "best eleven players" then you would have a list of the eleven most talented players. And that list would look something like this: Clint Dempsey, Jozy Altidore, Bobby Wood, Christian Pulisic, Michael Bradley, John Brooks, Geoff Cameron, Fabian Johnson, Jermaine Jones,  Timmy Chandler, and DeAndre Yedlin. But that group of players includes no goalkeeper,  three forwards, three midfielders, and five defenders. Even if you included Tim Howard so you had a goalkeeper, you still don't necessarily have the best team. So what the question really had to be is not who are the best eleven players but who are the best starting eleven?
Formation - Now the second complexity. The best starting eleven still depends. See, there's that qualifier again. It depends on who you are playing and the best formation and tactics to use against that opponent. Just in the last year the MNT has played a 4-3-3, a 3-5-2, and a 3-4-3 as well as variations of those base formats. Many of the players would be the same regardless of the formation and tactics. Christian Pulisic is starting in any of the circumstances. Additionally, a number of key players on the roster are capable of playing multiple positions. Geoff Cameron being a prime example. For the MNT he typically plays in the back. However, for his club team he plays as their defensive midfielder.
Are we there yet? Nope, not quite, got one more consideration. Are we talking a one game match or are we talking a tournament?
Tournaments - They bring in another level of complexity. Beyond the fact that you play multiple teams which dictates your formation and lineup it adds the consideration of fitness. In tournament play the group stage is all about moving on to the knockout stage. Certainly your standings in the group will determine who you play in the knockout stage but still at the end of the day its about advancing. Then when you get to the knockout stage things get more dicey. There is no tomorrow but you also have to be able to withstand the rigors of having played many games in a short time span and be prepared to play your next knockout stage game. It doesn't do much good to play the same lineup in all your group stage matches and the first knockout stage match if you have no way to be competitive after that. At this point and it becomes a chess match. Have to win yet hope to preserve enough for the next match.
Okay so there is the long explanation as to why its not a simple question. It just 'depends." There's that word but I promise I won't use it again. With all that explanation and caveat here is my answer. If we have one game and only one game to play. Then I am going to with this lineup and play a 4-3-2-1 formation.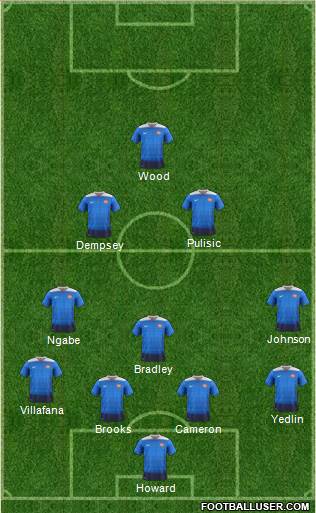 There are several notable names missing from this lineup. Jozy Altidore, Omar Gonzalez, Jermaine Jones, and Alejandro Bedoya to name a few. But this is how I see our strongest team.