articlefeature--baltimore-ravens
Grading the Ravens 2009 draft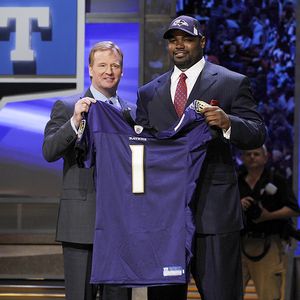 The 2014 draft kicks off in just two days. After it, brace yourself for the endless slew of "winners and losers" analysis from draft day. Draft grades assigned to teams, before their players even sign contracts. We know it's not fair to really say a team had a poor, good, or great draft until the rookies prove themselves on Sundays, or until they earn regular playing time and show what they can do at the highest level. That being said, we go back five years and give a fair analysis of the Ravens 2009 draft.
The Ravens enter the draft, fresh off a surprising run to the AFC title game behind rookies Joe Flacco and Ray Rice, and an unlikely first year head coach in John Harbaugh. Harbs being the special teams coach for the Eagles, wasn't the sexy pick of candidates for the job that included Jason Garrett. A former NFL QB and offensive minded coach that fans thought would finally get the offense rolling for the first time in over a decade. Also in house candidate, Rex Ryan, whose sound bites overshadow anything he's done as a head coach.
Share your thoughts, and your grade on this draft on our message board. Also, click here to see how you can support BSL, and four local charities. 
With their success a season ago, the Ravens started the day with the 26th selection in the first round. They would trade up three spots to #23, held by the New England Patriots, in exchange for the 26th pick, and a fifth round pick. The Ravens traded up to land tackle, Michael Oher. At the time, it seemed like a fine choice. The Ravens had their franchise QB in Flacco, now it was time to protect the investment. Oher seemed to work in reverse, having an okay rookie season but then tailing off ever since. He allowed 31 total pressures on the QB in 2009, then 39, 46, 45, and 56 in the next four years respectively. Not to mention failing as a left tackle where he famously protects "The Blind Side". Oher also had a knack for drawing too many penalties. False starting at home with the crowd on your side is unacceptable. But some folks will say he's just that quick off the snap that it only looks like a false start. Um…no.
The Patriots would later trade the #26 pick to Green Bay where they selected linebacker, Clay Matthews.
In the second round, the Ravens would pick up a pass rusher in Paul Kruger. Kruger needed to shed some pounds to become a real force in rushing the QB, which he did. After starting off mostly on special teams and as a backup rusher to Terrell Suggs and Jarrett Johnson, he would burst onto the scene in 2012 recording nine sacks, and starting six games in Terrell Suggs absence (achillies). The Ravens couldn't afford to pay Kruger his market value and he would go to Cleveland in 2013 where he tied for 11th among 3-4 OLBs with 51 pressures on the QB, and 12th in run stop percentage (6.5%, Terrell Suggs led his position at 11.3%).
In the third round, Baltimore selected Lardarius Webb from Nicholls State. Webb would start four games in his rookie year, but wasn't anointed a starting role until 2011 when he started 15 games, racked up five INTs, was the teams primary punt returner and had one return TD. He earned himself a six year contract extension that offseason, and was on his way to proving he earned the big money before he tore an ACL six games into the season. In those six games, he allowed just 11 catches on 24 balls thrown his way. QB ratings were 42.2 when throwing his way, which if he had kept that pace throughout, would have been third best in the NFL behind Casey Heyward (GB, 31.1) and Richard Sherman (SEA, 40.5). Webb recovered from his injury to start all 16 games in 2013, picked off two balls last year, but came back down to earth a little as QBs rated 87.4 against him. Richard Sherman still topped the league with a 47.3 rating against.
The Ravens traded out of the fourth round, with New England once again. They traded their fourth rounder and a sixth rounder for two of the Patriots fifth round picks. Both higher in the fifth round than the pick they traded away earlier in the draft to go up for Michael Oher.
Now with the first pick of the fifth round, the Ravens selected linebacker Jason Phillips. He was waived early in the 2011 season and has 31 career tackles to his credit. The Philadelphia Eagles gave him look in 2013, but an ACL injury on the first day of training camp ended his season.
The Denver Broncos would trade their fifth round pick and a sixth round pick to Baltimore to move up in round five. The Ravens would take tight end, Davon Drew with their second fifth round pick. Drew had never been made the active roster, but tried out, or was on the practice squad from 2009-2012.
Yes, the Ravens didn't generate any quality with their maneuvering of the fifth round, but here are some notable players selected in that round in 2009: Miami selected Chris Clemmons….and I'm done. So it's not like they missed out on someone special. A lot of teams missed here.
With their pick in the sixth round, the Ravens address running back and take Cedric Peerman. He was cut during the last round of cuts in 2009. He's bounced around from Cleveland, to Detroit, and landed in Cincinnati where the Bengals actually offered him a two year contract this offseason.
Baltimore didn't have a seventh round pick, after trading it, and 2010's seventh round pick to Tampa Bay for Marques Douglas. Douglas had a four year stint, two as a starter early on in his career nere in Baltimore. The second time around though, he didn't make much of an impact.
Notable seventh round picks in 2009: Captain Munnerlyn, A.Q. Shipley, Julian Edelman, Larod Stephens-Howling, Rashad Jennings, Tiquan Underwood, and former Maryland Terrapin, Dan Gronkowski.
The Ravens had only six picks in the draft which was their lowest total since 2000. They also had no compensatory picks.
Looking back on it, Michael Oher wasn't the player we had hoped, but at least he's an NFL player. The Rams selected tackle Jason Smith with the second overall pick in 2009, and he hasn't seen the field since 2011. The Jets traded three players, a first and second round pick just so they could take Mark Sanchez at #5. So the Ravens had good intentions with the Oher pick, could have been better, could have been worse. Grade: C-
It's a shame that the Ravens only got one solid year out of Kruger, with no fault on Kruger there. He was drafted as kind of a tweener as a DE/LB.  Lost the weight he was asked to and made the adjustment to OLB. There was just nowhere to put him on a regular basis. Grade: C+
The Ravens got what could be a Pro Bowl caliber defensive back in the third round in Webb. This is your "Ozzie Newsome is a genius" pick. Small school, mid-round, turns out to be quality talent. Webb stayed healthy for all 16 games post ACL tear, so high hopes for him to get back to early 2012 form in 2014. Grade: A-
Baltimore has absolutely nothing at all to show for the second half of the draft. Not all picks have to turn out as stars. No team has all draft picks turn out. But to whiff on the whole thing, plus Marques Douglas wasn't worth what could have been with a couple of the players I listed in the seventh round. No one made out in the fifth round, but they don't get a pass for not even selecting NFL players. Grade: F
Overall 2009 Ravens draft grade: C-