articlefeature--baltimore-ravens
Quick Slant: Belichick Did His Homework
Another quick-hit post that I decided to toss up after seeing a superior game-plan by Bill Belichick and Defensive Coordinator Matt Patricia.
Discuss this play on our Message Board.
The "Sail" Concept
Chris Worthington did a piece a couple weeks back almost exclusively about the Ravens "Sail" concept.  The Sail combination consists of a 9-route (or any vertical route, Comeback, Sting, Post-Corner) and 2 levels of Out routes.  The Ravens vertical-to-intermediate offense is based on a limited number of proven route combinations and "Sail" is one they lean on often.
Success versus Pittsburgh
I stole this image directly from Chris Worthington's piece that I linked above.  The Ravens use the "Sail" combination and Flacco targets Torrey Smith on his "Sting" route in the middle of the field.  The Steelers defend this alignment with Cover-3.  Polamalu is labeled in the image above because he is the defender that chases Jacoby Jones crossing route (Sail route). 
You can see the three deep Steelers being impacted by Torrey Smith's vertical stem.  That leaves the underneath defenders to cover Marlon Brown's short Flat route and Jacoby Jones' Sail route.
Flacco eventually throws to Torrey but Jacoby is wide open as Joe's second read.
The New England Adjustment
If you read any NFL team's defensive game-plan, every adjustment is based on tendencies.  These can be down-and-distance tendencies, personnel tendencies, and/or formation tendencies.  The Ravens show the exact same personnel and formation to New England and predictably, this Belichick-led team was prepared:
I'm convinced that the Patriots are using a hybird man/zone concept here but the post-snap coverage boils down to man-to-man with one deep safety and one "Rover" (Hightower in this instance).  The personnel, formations, and route combinations are identical to the previous play above.
Flacco eyeballs the single-high safety (at the NE 43 yard-line) and knows the vertical route is covered.  His second read is Jacoby Jone's Sail route.  The defenders are effectively bracketing the Sail route.  The video highlight recaps the result of this play…interception Flacco.
The blame for this interception goes on Flacco.  Flacco is not pressured and has time to step into his throw.  Flacco has shown the arm strength and the touch to press the ball into small windows but this window was clearly too small and it resulted in a turnover.
Clearly NFL playbooks repeat plays.  When plays have success, you must come back to them when you need a big play.  But, that's not my point here.  The Ravens have shown this combination throughout the season and the Patriots capitalized on tendency recognition.  The Ravens simply need to run a wider range of plays from the same personnel/formations or use a bit of "window dressing" to disguise their route intentions.  As a quick example of formation variation for the above "Sail" concept, it can be run from a tight 21 personnel alignment: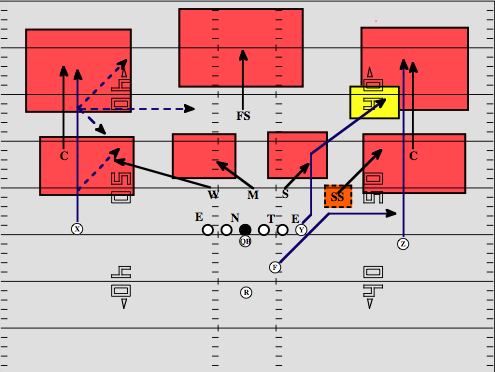 *image via National Football Post.