articlefeature--baltimore-ravens
Ravens Rookies: In the trenches with Urban, Urschel
As we continue to take a look at some of the new rookie class here in Baltimore, we take a look at two men who battle it out in the trenches, stating with fourth round pick, Brent Urban out of Virginia.
Previous articles on Timmy Jernigan, Terrance Brooks and Crockett Gillmore
Discuss your thoughts on this topic on our message board. Click here to learn how you can help BSL grow and support four local charities. 
"The Urbanator" as the Wahoo faithful refers to him as in Charlottesville, stands 6'7", 295lbs. He was a redshirt Senior and had a good showing at the Senior Bowl. The Ravens had him ranked as a second round talent, and are thrilled to see him fall to them in the fourth round.
Strength is something that Urban (#99) does not lack. Here he is shedding a block up the gut, and bear hugging the RB to the ground for a tackle for loss.
Here is an example of Urban's force used to collapse the pocket and make QBs uncomfortable.
His patience then quickness to attack helps him create pressure and a poorly thrown ball.
Again, with the quickness, Logan Thomas doesn't even have time to react, and this one was on 4th and 1 to seal the win for UVA.
Being 6'7" certainly has its perks. Able to swat balls out of the air with ease, like on this nice stunt play that takes him around the edge.
You'll be hard pressed to find a tape where the opposing lineman manhandles Urban. He's big and strong, and 6'7" will be tough for QB's to see over. But in the NFL, everyone is big and strong. That is where technique comes into play. I must say. I'm not in love with his technique. He's tall, and he plays very tall. Lacks a lot of bend to get low and gain some leverage.
Here are a couple examples of where not having the leverage hurts him. He gets pushed out of position with ease here as he's spun around and shoved to the turf.
Again, he gets spun around off balance, and doesn't have a chance to get a hand on the RB that runs right. You can't be having your back to the action if you're on defense. 
Bottom line, I like the size, the strength, the quickness of Urban, (not to mention the nickname "Urbanator"). The technique is what will decide whether or not he can hack it at the pro level. Good thing is technique can be taught. If he can get more flexible in the knees and keep from standing straight upright off the snap, this guy could be the total package and an absolute steal in the fourth round.  He's got just as good a chance to draw a majority of the first team snaps with Canty and Ngata as the other contenders. Those contenders are Brandon Williams, Deangelo Tyson, Terrance Cody, Kapron Lewis-Moore, and second rounder Timmy Jernigan.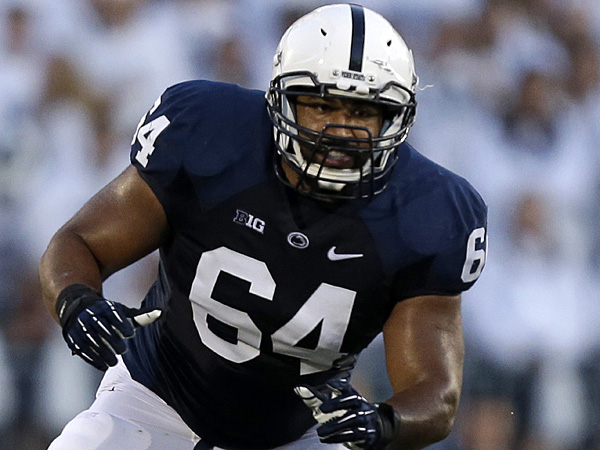 Moving on, let's take a look at a guy who Urban will face off with during camp. On the other side of the trench, it's the Ravens fifth round compensatory pick, guard, John Urschel out of Penn State.
The thing most talked about when it comes to Urschel is his intelligence. "He's smart, and Matt Birk was smart and drafted late, so this guy is like Matt Birk." Timeout. Pull back the reigns for just a minute before we anoint this guy the next six-time Pro Bowler. Yes, intelligence is key, especially with the complexity of today's game. QB's aren't drawing up plays in the dirt anymore. But there are a lot of smart guys who amounted to nothing in this game, and a lot of dumb guys who are very good at their craft. Can he play football? That's really my only concern with anyone.
Urschel stands 6'3", 313lbs. Good size for an NFL guard. In the tape I've watched, there isn't much if any that shows him moving up to the second level in a zone blocking fashion. So the jury is still out until we get to see him on the field here on whether or not he will fit in to Kubiak's ZBS. With his smarts, he should be able to learn the nuances quite quickly.
Here, you'll see Urschel (#64, RG) do a nice job in pass blocking. He keeps good balance, strength to keep the defender an arm's length away. Nice lateral movement to keep the defender from beating him with a spin move. Ultimately, the QB just had nowhere to go.
Possibly Urschel's toughest test of the year, he goes head to head with early second round pick Ra'Shede Hageman (#99). Hageman was listed as a first round talent in about every mock I read.
Hageman lines up all over the defensive front, so there we're only a handful of times he went up against Urschel. But the Nittany Lion never let him beat him. He held his own with one of the games strongest rookies.
That was the good, now one for the bad. This is a really poor sack allowed by Urschel. He's engaged with his man and leaves him to take on the linebacker blitzing up the middle.
It's often the running backs job to pick up the blitzing linebacker. This confuses the RB when Urschel takes on the LB instead of sticking to his man. The man Urschel left alone picks up the easy sack. We saw some of this from Gino Gradkowski and the other guards last year. Reaching for blocks and not really doing an effective job. Urschel has to know that he can't leave his guy to pick up someone else's assignment. Trust in your teammates that they'll do their jobs.
Bottom line, John Urschel has the size to play guard in the NFL. He also expresses good technique. He doesn't get beat with spins or swim moves. He went to toe to toe with Ra'Shede Hageman and won, which should say something about his strength.  However, nothing I see shows him being a real dominant force in his blocking. He engages, he keeps rushers in front of him. But he doesn't plow through guys in run blocking. He doesn't create big holes for his backs. Urschel doesn't knock a guy on his backside then proceed to the next level.  Looks solid, but could be a project. I don't see him taking playing time away from Yanda or Osemele anytime soon.
Game tape courtesy of draftbreakdown.com