articlefeature--soccer
USMNT – Midway through the Hexagonal
The USMNT has two WC 2018 qualifiers coming up in the next several days. First, on Thursday in Denver against Trinidad & Tobago. Then Sunday evening in dreaded Azteca Stadium against their rvials, the tricolor of Mexico.  Both of these matches are critical as we near the half way point of this final round of qualifying. The good news is that the MNT is in much better shape than they were after the first two matches which left then in dead last! However, they still have a ways to go. They are currently tied for fourth place with four points, however they are well ahead on goal differential. The top three teams in CONCACAF qualify for WC 2018 with the fourth place team moving on to a home and home series with the fifth place finisher in the Asian Football Confederation to take place in November. Here are the current standings.
(You can discuss this on the BSL Board here.)
While two matches at this level always present roster challenges, this time is especially difficult for head coach Bruce Arena. For those players based in Europe or Mexico they are coming off a long hard season. While they are in great form, its also hard to be in top fitness at this point. The body needs to rest eventually. On the flip side, those players based out of MLS are in both top form and match fit. The second issue is the timing of these two matches. Normally they would have played Thursday then Tuesday. However, since Mexico has to get ready for the Confederations Cup, they requested that the match be moved to Sunday.  The US agreed to this arrangement in that both teams have the same short turnaround to prepare. However, what gets lost in that is both Mexico games are at home. So while they do have the same short rest period they do not have a travel day thrown in there. Still since they are playing it at night that is a benefit to avoid the usually horrible air conditions of Mexico City during the day. So it will be interesting to see just how Arena uses his roster the next two matches. I am sure he and his staff have a plan but they didn't tip it much with the friendly against Venezuela on Saturday night. The only thing he has stated publicly is that Tim Howard is the #1 keeper…..well, duh. So what's on tap?
US – T&T
In looking at the current standings and the remaining schedule, the US is in great shape to qualify. However, at this point their margin for error is razor thin. This game is just about a must win. While they are still capable of qualifying with a loss or a draw here it becomes a much more difficult task. Most likely meaning they would have to win at home against Costa Rica and not have any other missteps.  Certainly you can't go all out in this game and leave nothing for Mexico but I think you put out your best XI for this match and get three points and hopefully build on your goal differential. Then against Mexico you play more defensively, counter attack, and try and get a draw. But at a minimum, don't get destroyed to put your goal differential in a poor situation like it was after the first two matches. So here's what I would look at for Thursday night.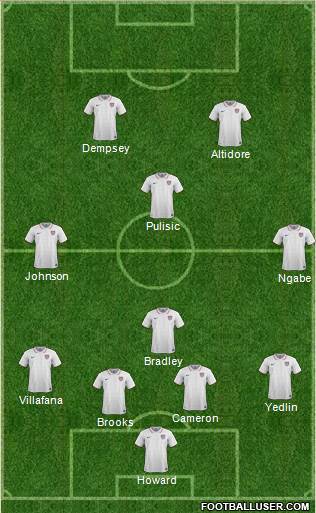 Attacking T&T straight away. Speed on the outside with supporting runs out of the back by both Villafana and Yedlin. Ball control in the middle with Ngabe who can move the ball up to Pulisic, who is clearly now the center of the wheel. He has the vision and the ability to make things happen. He can combine with Dempsey in the attacking third and they both will use Altidore as target forward. Altidore will have the option to turn and go to goal or shoot or to lay the ball off to a runner. This is how they beat Honduras in March and it will be how they beat T&T. The one question mark is Brooks in the middle. He sustained an injury in the Venezuela friendly. He has been in full training and Arena says he is ready to go. The question will be whether or not Arena opts to hold him out for the Mexico match. If Brooks can't go or is held out then look for one of Gonzalez, Besler, or Hedges to fill in.
US – Mexico
 Assuming they get the win against T&T, the Mexico match becomes one of playing with house money. Any point they could gain there would be pure bonus. The lineup will not be the same between the two matches. Just too many minutes in too few of days to go the same. So I look for a more defensive minded midfield and a lone forward with speed….that means Morris, with Wood lineup up just behind him to play both ways.  Although Arena could opt for a Wood-Altidore pairing against T&T and save Dempsey and his experience for Mexico.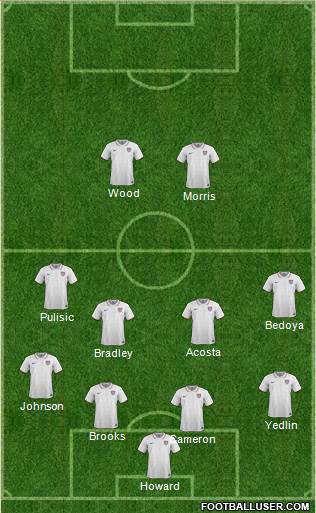 This is a more defensive minded formation and more experience in the back my moving Johnson back to left back (although Villafana may still show up there), and bringing on Acosta and especially Bedoya in the midfield. Wood can play end to end supporting the defense but quickly moving up in counter attacks. The speed of both Wood and Morris up top combined with the playmaking of Pulisic and Acosta might give the Mexican back line fits. The key to this will be Bradley at the defensive midfield slot. He will have to play the ball forward quickly and while under pressure. If he turns the ball right back to Mexico it could be a tough night for the US. The back four of Mexico is not weak by any means but it is not their strength either. Well timed runs out of the back by Yedlin or Johnson could catch them shorthanded. The key here being to find that golden pass in the final third. But they also have to be very careful on making those deep overlapping runs. They must have adequate coverage behind them or Mexico will counter with numbers. The US strength in the back is in their size and ability to stay compact and hold up attacks until the midfield can come back to support them. If they are slow to get back it will present issues for the US defense. The other key for the US defense will be set pieces. They must do better at not losing their man. Recall the game last fall in Columbus when Mexico scored the last game winner. All of a set piece where a defender lost his mark. We are very strong in the air so as long as they mark well it will be difficult for Mexico to score through the air. And if they play compact tight defense it will force Mexico to take their shots from distance. Very hard to beat Howard from distance!!
So there you have it. In the end I see the US winning by several goals over T&T then following up with a loss in Mexico, although a draw sure would be sweet. So go guys get us at least three points and lets move up in the standings.
Oh one last thing. For the first time in a long time the USMNT has pretty much every player available. Lets hope the injury bug that has hurt them so much the last year or so is behind them.