The "regular" MLS season has been completed and the playoff bracket is set. Well sort of. Like everything else about the 2020 season, the playoff have a twist too. Actually several twists. Here are the differences between this years playoffs and the past.
For the last several years 14 teams have made the playoffs. Seven from each conference with the conference winner earning a first round bye. This year, the top 8 teams from the Western Conference made the playoffs. But in the Eastern Conference, only the top 6 teams are seeded in the actual playoffs. Teams ranked 7-10 have a playoff play-in game with the two winners advancing to the actual playoffs.
The final standings were not based upon point totals. Since teams played different numbers of games the final standings were based upon the average number of points earned per match using the standard 3 points for a win and 1 point for a draw. All 14 teams in the Eastern Conference played 23 games. However, over on the Western Conference Side only 4 teams played a full slate of 23 games. While 5 sides played 22 games, 2 played 21 games, and the Colorado Rapids played a league low 18 games.
(You can discuss this on the BSL Board here.)
Given that here's the 2020 MLS Audi Cup Playoff Bracket: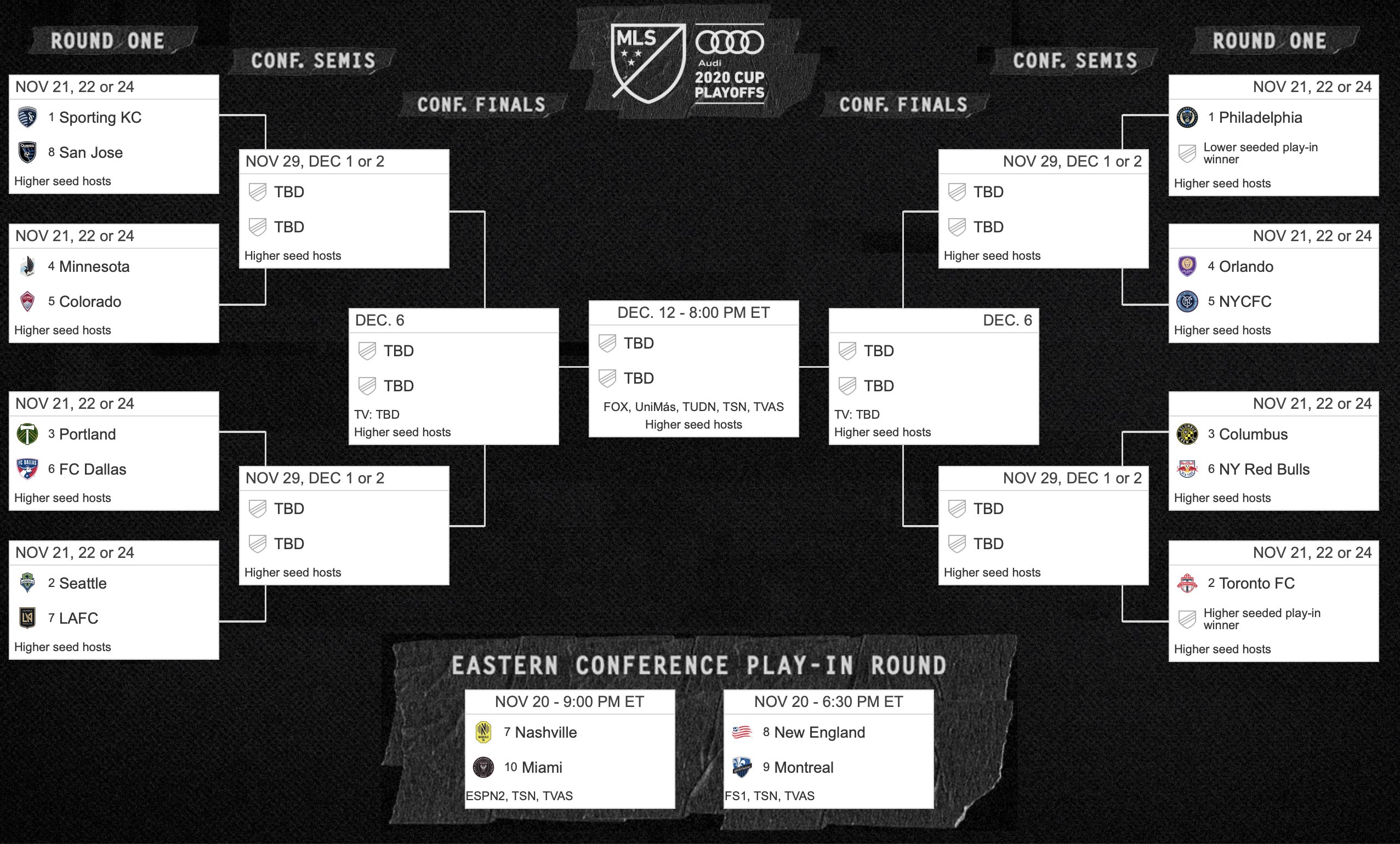 Lets take a look at how this may shake out over the next several weeks. Starting with a full legal disclosure. This is 2020. Nothing about this year has gone as expected and certainly sports have followed right along. So take this with a huge grain of salt and don't bet your house on anything I have to say!
Eastern Conference Preview
Play In Games
New England Revolution vs Montreal Impact: An interesting matchup in that these two teams have already played each other 4 times this year. The Revs were 3-1-0 over the Impact during the season with a composite scoring line 8-5. Neither team has played well down the stretch so when in doubt just follow the season results. Given that the game is in New England gives them a slight edge to move into the playoffs.
Nashville FC vs Inter Miami CF: This match presents an interesting storyline regardless of the outcome. An expansion team is guaranteed to get at least 2 matches in this years playoffs. After all one of them has to win. They played each other twice this season with Nashville coming away with a win and a draw. Nashville plays the better defense while Miami only scored one more goal on the season than Nashville. When in doubt go with the home team especially when they are the better defensive side.
Round One
Philadelphia Union vs New England Revolution: This one is simple (with the caveat that its 2020). The Union had a plus 24 goal differential. When you average more than plus a goal a game you don't lose much. And at home not only didn't they lose much they didn't lose any. Going 9-0-0 at home its hard to imagine that they don't win their Round One match, especially when its against a play in team. The really cool thing about the Union is that they have built a really strong team of homegrown players. They have 7 of them on their roster. Hard not to root for a team built like that! And they have the MLS Goalkeeper of the Year in Andre Blake. They could make a deep run. Like clear to the end deep.
Orlando City SC vs New York City FC: Orlando struggled a bit in October losing four straight but finished with three straight wins. But on Decision day they surprisingly lost at home to Nashville, their first home loss of the season. On the flip side NYCFC finished the season on a really good run going 7-1-2 in their final 10 matches. Orlando gets an edge playing at home but and will likely score in this one. But its just hard to look past the great form NYCFC has been in so I am going with the road upset in this one.
Columbus Crew vs New York Red Bulls: The Crew have been very good at home only losing once in 10 games. On the season they had a plus 15 goal differential. Second in the conference behind the Union. The Red Bulls have been in good form of late going 3-3-1 down the stretch. They will need to be in top form to upset the Crew in Columbus. But if you look deeper at this, the Red Bulls really only have one strong win this season in beating Toronto FC. The rest of their wins were mostly against sub .500 teams. Columbus is playing at home and has the second leading scorer in MLS in Gyasi Zardes. Zardes is having one of his best seasons and could be the difference maker in this one. Columbus moves on.
Toronto FC vs Nashville FC: A perennial playoff contender against an expansion team. Probably not hard to figure this one out. Toronto had the second best average point/match in the league. Nashville averaged less than a goal/ game while Toronto scores almost 1.5 goals/game and allows just over a goal/game. This is likely going to be a low scoring match especially if the weather in Toronto is less than stellar. In a low scoring match, defense makes a big difference and it usually boils down to which team can finish their limited chances. In this one give the nod to the Toronto playoff experience and look for them to move on.
Western Conference Preview
Sporting Kansas City vs San Jose Earthquakes: Bad news for Quakes fans. They are catching Sporting at the wrong time. Down the stretch they went a league best 6-1-1 and including going 2-1-1 on the road. The Quakes have been very inconsistent this season. When they are on they are on and can score quickly. But when they are not on they can be flat awful and they this year they have been off more than on. Couple that with their leading goal scorer the ageless Chris Wondolowski is just not a recipe for success in the playoffs. Even at their best its hard to see the Quakes beating a really in form Sporting in Kansas City. Unfortunately for Quakes fans, they don't advance in Wondo's last match.
Minnesota United vs Colorado Rapids: Both these teams enter the playoffs in good form. The Loons have gone undefeated in their last 8 matches going 4-4-0. The Rapids had a very odd season to say the least. The Rapids were affected by the virus more than any other team in the league and were shut down for a month after the restart. When they came back they looked rusty as expected losing twice. But they finished up winning their last 3 including 2 on the road. On paper the Loons seem to have the advantage but the Rapids are a team playing with a lot of pride right now. This game could easily end in a regulation draw and then its a crapshoot. The Rapids were tied for the most road wins in the Conference even having played fewer matches. I am leaning toward the road upset here and the Rapids win a tight one.
Portland Timbers vs Dallas FC: Portland was second in the league in scoring but had the 3rd worst goals allowed record for Western Conference teams making the playoffs. Dallas scored the fewest goals of any team in the conference making the playoffs but allowed the second fewest. So how do you handicap a high octane offense with a weak defense compared to a weak attack with a strong defense? Look at historical experience. Portland historically makes deep runs in the playoffs and they won the MLS is Back Tournament this summer. Although the Timbers have some issues in the attack with injuries they still should have just enough to get past Dallas. Especially when you consider that Dallas has lost 5 of their last 6 road games.
Seattle Sounders vs Los Angeles FC: How does a team lead the league in goals scored and finish clear down in 7th place in the conference? Simple. Have a lousy defense. LAFC scored a whopping 47 goals this season. But they also allowed 39 goals. Second worst for the 14 seeded teams in the playoffs. Only the Quakes were worse and as already discussed they are going home. So is LAFC. Or are they? Both of these teams have players that may or may not be back from the international break and there are still virus concerns. LAFC has Carlos Vela back and scoring goals but its unclear if league scoring leader Diego Rossi will be back and cleared to play. Seattle is hoping that striker Raul Ruidiaz will be back since he already had the virus and supposedly won't have to quarantine after returning from the latest international window. If it comes down to Vela and Rossi for LA and Ruidiaz and Jordan Morris for Seattle this could be a really entertaining match. In the end I think Seattle has enough defense to keep LA in check to enable their front runners to score. This looks like a 4-3 type a match for Seattle.
Now all we have to do is wait till Friday night for the play-in matches then the playoffs to begin in earnest on Saturday. Should be a fun ride. Now what would be really cool is to have a final between Seattle and Columbus. Nothing like finishing the season with a battle between the top two American scorers!
Steve Birrer
Soccer Analyst
Steve is an avid fan of all things soccer and the O's. Originally from the west, he grew up in the Baltimore area. He returned to the west for college where he earned a BS degree in Chemical Engineering from Montana State University and spent 36 years working at the Idaho National Laboratory prior to retiring in 2013. It was during his school years in Baltimore where he learned to play soccer and that developed into a life long passion. He played competitively for over 40 years and was a four year starting goalkeeper at MSU. He also coached and refereed in the Idaho premier soccer and High School programs for many years.