The road to the 2020 Champions League Final, to be held in Istanbul, Turkey on Saturday May 30th renews next week. There is still a long road to get there but after a three month hiatus the wait is over.
Back last fall I provided a preview for this year's competition and how one could expect the groups to shake out. If you want to refresh yourself on that prognosis here's the link.
But the short version is this. All the top tier teams advanced. And the group of expected challengers to advance all did as well. As typical for the Group Stage there were no major surprises. Additionally, as suggested last fall several Americans are key to their teams continued success. Pay particular attention to Dortmund and a 17-year old kid named Gio Reyna. Son of long time USMNT palyer Claudio Reyna. In fact Gio scored his first goal for the parent club last week becoming the youngest player to ever score in German Cup competition. Now go back and read that last sentence. The youngest player ever. Not the youngest American. The youngest period. And check this goal out. Its a terrific effort.
(You can discuss this on the BSL Board here.)
So here's the matchups for this round and what to expect. Remember that this round is a home and home series. The typical approach is to tie on the road and win at home with the big key being able to get that all important away goal. The format for advancing is simple. Points amassed, goal differential, away goals. It is pretty common to have to work down to that third tiebreaker. The lead in photo for each matchup will be of a key player.
Atletico vs Liverpool
The good news for Atletico fans is that they play the first leg at home. The bad news is that they face Liverpool. For the Spanish side to have a chance to advance they will mostly assuredly need a win at home and a clean sheet will be very important. But even with a clean sheet win it will be tough to advance. Liverpool scores almost at will and playing the second leg at home they have the ability to put up some crazy numbers even against a strong defense. Coming in Atletico has faired only ok going 2-1-2. And similar to last season their weakness has been in goal scoring having only netted 23 goals in their first 23 La Liga matches. However, their defense is once again stellar having allowed only 15 goals thus far.
The flip side is Liverpool coming in on a stretch of 4-1-0. Liverpool just keeps on winning and mostly big. In their 25  EPL matches to date they have scored 60 times while only allowing 15. Its just hard to imagine, even with the defense of Atletico, that they can just keep Liverpool from scoring. Look for Atletico to concede possession for long periods of time with Liverpool probing different areas of the field to try and break down the Atletico defense. Ultimately the advantage has to fall to Liverpool. With the pace of forwards Mo Salah and Sadio Mane, the Reds are simply too strong. Oh and they have the best central defender in the world in Virgil Van Dijk.  Even when Atletico attmept to counter the counter-press of Liverpool is tough to beat.  Liverpool is pretty much at full strength but Atletico may be missing two key players in Kierran Trippier and Alvaro Morato.
Liverpool advances.
Dortmund vs PSG
The one will be very entertaining. Dortmund has gone 3-0-2 in their last 5 while PSG has won their last five. But Dortmund has not lost a Bundesliga match at home this season and tends to play much better at home. Both of these sides like to attack. Not that they can't play defense but their style is to press, press, press some more. Certainly that will get dialed back a little given the stakes in UCL but you can expect to see plenty of fireworks here. Much of these two legs may boil down to how they fare with injuries. Both sides have key players missing and they are impact players. Biggest missing piece for Dortmund is striker Marco Reus (he will miss the first leg at a minimum. Replacing those goals will likely need to come from Braut Haaland. If he continues his form of late he will create problems for the PSG
For PSG, Neymar and Thiago Silva are both out but back in training. If they are good to go and fit enough then that will give PSG the slight edge. But its hard to see them being sharp especially in the first match.
This is going to come down to which team scores more away goals. Don't be surprised if PSG sheds some of their recent years UCL failures and moves on.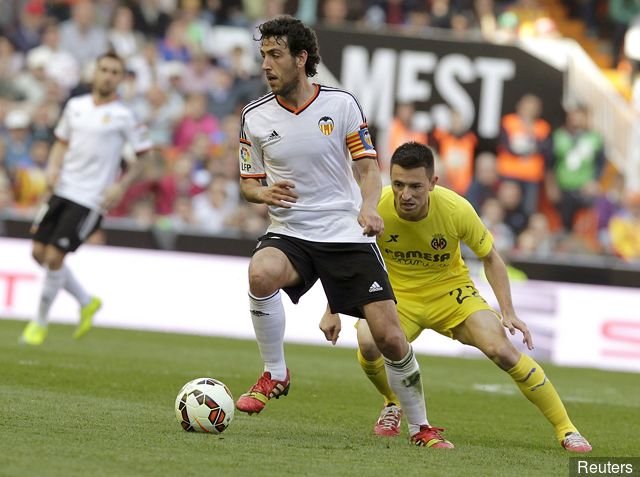 Atalanta vs Valencia
An interesting matchup in that both sides are happy as they got the best draw they could. These two teams are probably the two weakest left. And they both come in with a some mixed results of late. Atalanta has gone 2-1-2 in their last 5 but are 2-1-0 in the last 3 having outscored their opponents 11-3. Valencia has gone 3-0-2 in their previous 5 mtaches.  This is another toss up. Atalanta features one of the top goal scorers in Serie A in Columbian striker Duvan Zapata. Valencia counters with a duo of midfielders that love to move forward in Dani Parejo and Denis Cheryshev. The interesting note on Valencia is that during the Group Stage they managed to earn 7 points in their 3 road matches. They are certainly not afraid of playing away from home and given that the first leg is away they may have the slight edge.
I wouldn't wager on either team in this pairing. Unless you just like coin flips.
Tottenham vs RB Leipzig
A study in contrasts. One team, Tottenham, comes in having played perhaps their best soccer of the season going 3-2-0 of late. Conversely Leipzig has been pretty pedestrian going 1-2-2. However, the Red Bulls did draw away at Bayern Munich last week and Bayern has been beating up on everybody. Tottenham went through some struggles early on in the EPL which forced a managerial change. While many saw the firing of Mauricio Pochettino what almost nobody saw was the replacement. When they announced that Jose Mourinho was the new manager for the Spurs I'd be lying if I didn't say I was shocked. But his coaching career has shown he is usually very good the first couple of years with a new club and thus far that's holding true with the Spurs. A team that has still found ways to score with striker Harry Kane out for most of the rest if not the rest of the season.
The first leg will be interesting. Tottenham will need to push forward as much as they can to try and score a multi goal victory. While they will take any victory they really need to avoid getting into a shootout. If Leipzig scores multiple away goals it will be very tough for the Spurs. In this match expect to see the Spurs continue their recent formula for success and that is long balls out of the back from Toby Alderweireld. The Red Bulls will likely employ the same pressing strategy they did last week against Bayern by having Dani Olmo or Timo Werner press Alderweireld whenever he gets the ball.
Look for the Spurs to win by 2 at home and then hold on in the return fixture to advance.
Chelsea vs Bayern Munich
Unfortunately for The Blues, they drew one of the hottest teams in the soccer world in Bayern. Chelsea has not been playing particularly well of late going 2-2-1. Not bad but probably not good enough against a juggernaut team coming in on a 4-1-0 run outscoring their opponents 16-4. And that run includes three clean sheets. Chelsea MUST win at home to have any real shot and they need to play more consistent soccer. They have their strong moments but then seem to lose focus and give away bad goals. A team like Bayern will punish that and Bayern is actually a slight favorite in the match even though they are on the road.
Bayern is loaded with talent and a deep roster but one of the big changes thus far this year has been the emergence of Canadian star midfielder Alphonso Davies. The youngster has talent and more importantly speed. He can get up and down the field so quickly that he can smother what looked to be a dangerous counter attack from the opposition. Look at this clip and see how far behind the play Davies is before he sprints back to smother the attack.
This match may boil down to goalkeeping. The way Bayern Munich has been scoring lately Chelsea will need keeper Kepa Arrizabalaga to play some outstanding football. Unfortunately for the Blues, while they have a really solid team they just got a bad draw. And with Christian Pulisic still out with an injury they may not have the horses to hang. The slight good news is that Pulisic is back in training and may be available. They have EPL matches with Manchester United and Tottenham over the next 10 days. If Pulisic can get some minutes he may be able to get in to the Bayern match.
In the end, while my heart is with Chelsea, put your money on Bayern Munich.
Napoli vs Barcelona
Barcelona crushed the opposition in the Group Stage winning four times and drawing twice while only allowing 4 goals in those 6 matches. They appear to be out for blood in this years UCL after their abysmal knockout at the hands of Liverpool last season. They had won at home in a 3-0 crushing match only to return the favor to Liverpool in the second leg losing 4-0. Nobody saw that coming and many say it was one of the greatest comebacks in soccer history. The problem for Napoli is figuring out how to stop Lionel Messi. Hint – you don't. But even if you do manage to do that for a game or two then what about Antoine Greizmann? Or that other guy, what's his name? Oh yea, Luis Suarez. Bottom line is that is just too much firepower for even very good defensive team. And this year's Napoli's team is not as strong as last year's.
But not all is bad news for Napoli. In the Group Stage they actually garnered a win over Liverpool and nobody has been beating them this year. Belgium striker Dries Mertens will have to perform some magic if they are to overcome Barca.
In then end Barcelona moves on.
Lyon vs Juventus
Anybody but the most ardent Lyon fan would say this should be fairly easy for Juventus. Two of Lyon's best players, Memphis Depay and Jeff Reine-Adelaide are out for the rest of the season with ACL tears. Juventus would be favored anyway but missing those two just makes Juve prohibitives. Lyon is probably the third weakest team in the Round of 16 so its was going to be an uphill battle against almost any draw. And they have struggled to find the back of the net. Losing their best attacker in Depay makes that a big problem. Meanwhile there is a ton of pressure on the Italian side. They went out two years ago and got their guy. They spent big and got Cristiano Ronaldo. The only result their fans will be happy with is reaching the final and finishing with a title. Not sure they make the final but they certainly move on here.
Real Madrid vs Manchester City
Probably the best tie of the round, if not for just the soccer, but the storyline of coach Pep Guardiola. The Man City manager has taken sides into Real for some pretty significant matches when he managed both Barcelnoa and Bayern Munich and those fixtures typically featured plenty of fireworks. Expect that to follow here. Then there are the teams themselves. The Citizens come in on a 2-1-2 run however, both the losses were the last two matches. Conversely, Real comes in on a 5-0-0 run outscoring opponents 11-2. On the field Real will goes as far as Karim Benezema and maybe even more importantly Luka Modric, take them. If Modric is given space in the midfield then Man City will have a hard time shutting down Real's attack. But the key player on the entire field may be Aymeric Laporte. The French defender is just coming off a major knee injury and is just getting into playing condition. If he can go and is fit it may be the difference maker.
This is another coin flip with two great teams. If you only get to watch one match in the next two weeks this would be one not to miss.
With the match times set for the evening in Europe they will be mid to late afternoon on the East Coast. In the US games are broadcast on TNT and in Spanish on Univision as well as streamed on several platforms including Fubo, Sling, and B/R Live.
Steve Birrer
Soccer Analyst
Steve is an avid fan of all things soccer and the O's. Originally from the west, he grew up in the Baltimore area. He returned to the west for college where he earned a BS degree in Chemical Engineering from Montana State University and spent 36 years working at the Idaho National Laboratory prior to retiring in 2013. It was during his school years in Baltimore where he learned to play soccer and that developed into a life long passion. He played competitively for over 40 years and was a four year starting goalkeeper at MSU. He also coached and refereed in the Idaho premier soccer and High School programs for many years.